I had the opportunity to chat with Aleesha Harris from The Vancouver Sun about how Florals can be incorporated into the home in less traditional ways, check out the article below, featuring myself, Urban Walls and The Cross!
http://vancouversun.com/homes/decorating/fun-with-florals-blooms-making-unexpected-appearances-in-home-decor
"It's no secret that flowers can make a home or work space feel fresh.
"It's like bringing the outside in," says Danielle Hardy, founder and creative director of Urbanwalls. "The colours are all from natural elements and bring life to the space while keeping things fresh and pretty."
But what if you aren't exactly a fan of bonafide blooms? Maybe you don't like the cost of keeping real flowers in your space, can't seem to keep potted plants alive — or even worse, are allergic to enough greenery that you're prohibited from bringing them into your space completely?
Vancouver artist Dana Mooney with one of her abstract floral paintings.
Well, you're in luck. Because, these days, there are plenty of ways to incorporate flowers into your life without relying on your garden-variety versions.
And an easy place to do so, is on your walls.
"I personally love that a floral painting will never die and doesn't need watering," Dana Mooney, a Vancouver-based artist, says with a laugh. "Floral paintings are full of life, brighten a space and bring a splash of colour and character."
Mooney, who creates abstract paintings in her Gastown studio, says the floral creations people choose to place in their homes can showcase more than just good colour and style.
"You can almost show your own personality by the type of flowers you choose to bring into your space," she says.
From pillowy peonies to tightly coiled roses, the abundance of bloom options available provide a dose of natural beauty — and even femininity to a space. Plus, flowers typically play well alongside most design esthetics.
"They also bring a soft element into a space, because of the loose, rounded shapes of the petals and leaves there is nothing harsh about them," Mooney says. "So, they can mix well with many styles of home decor, everything from modern to vintage will work so perfectly with florals."
Another fun way to add blooms to your walls is with stickers. Yes, stickers.
"Decals are the best option because they give you the look of wallpaper without the cost or permanency," Hardy explains. "Whether you choose to install them symmetrically or splatter them up on the wall confetti-style, you can now be the designer of your own space without the commitment and hassle of wallpaper or paint."
A wall is decorated with decals from Urbanwalls.
Hardy's company provides semi-permanent decals (they're hardy enough to last for years, but can be easily removed from most wall surfaces without any damage) in a garden-variety of shapes and colours — including peonies, roses, ranunculus and anemones — all inspired by actual blooms.
"We worked with a local florist to import hundreds of flowers from France to the studio, where we actually photographed them and turned them into gorgeous blooms for your walls," Hardy explains of the brand's latest floral creations, dubbed the Garden Flower series.
The temporary aspect of wall decals, coupled with the relatively simple application process (think: peel and stick), proved to make decor decals a popular option for adding colour and visual interest to a home.
"Whether you rent your space, are transitioning your baby from a nursery to a big-kid room or have design (attention-deficit disorder), our customers love the fact that they can make these changes without feeling guilty," Hardy says. "You don't have to be stuck with something you're tired of since they're easy to swap out."
If you're looking for a floral addition to your home that requires less of a commitment — physically or fiscally — consider picking up one or a few decor items to spruce up your space.
"You'll find florals everywhere, as an accent in a decorative pillow, wallpaper, painted ceramics, original art, rugs, iPhone cases and desktop stationery," says Stephanie Vogler, creative director of The Cross Design. "Personally, I love floral pillows. Depending on the season, they can change a space dramatically and can be a quick way to change the mood of any room."
Vogler suggests playing with colour and pattern pairings to shake up the vibe of the space — and keep it from being too precious.
A pretty floral-print pillow can add a dose of colour and femininity to a space.
"I always pattern mix my florals with other fabrics such as stripes, solids and my newest favourite pattern trend, Shibori (a Japanese dyeing technique) prints," she says.
Just, whatever you do, be mindful of how many — and at what scale — you welcome floral prints into your space at once.
"I do think there can be too much. I always hesitate from too much of anything really," Vogler says of an overabundance of blooms. "Keep it simple and lovely and you'll never be tired of your choices."
She says a simple rule of thumb is to never introduce more than three or four patterns and shades into a space. Otherwise, she says it can resemble a "bazaar going on in your living room."
But perhaps the biggest bonus to adding more blooms to your home or office is the effect they can have on the overall mood (yes, mood) of a space.
"Overall they have such a great positive and dynamic energy to them," Mooney says. "And I think people are drawn to that."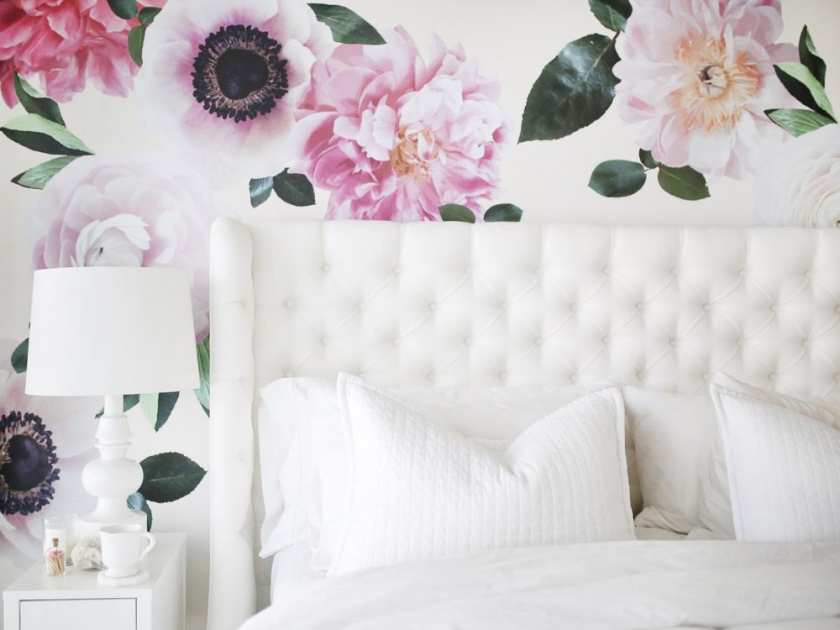 Floral Decals by Urban Walls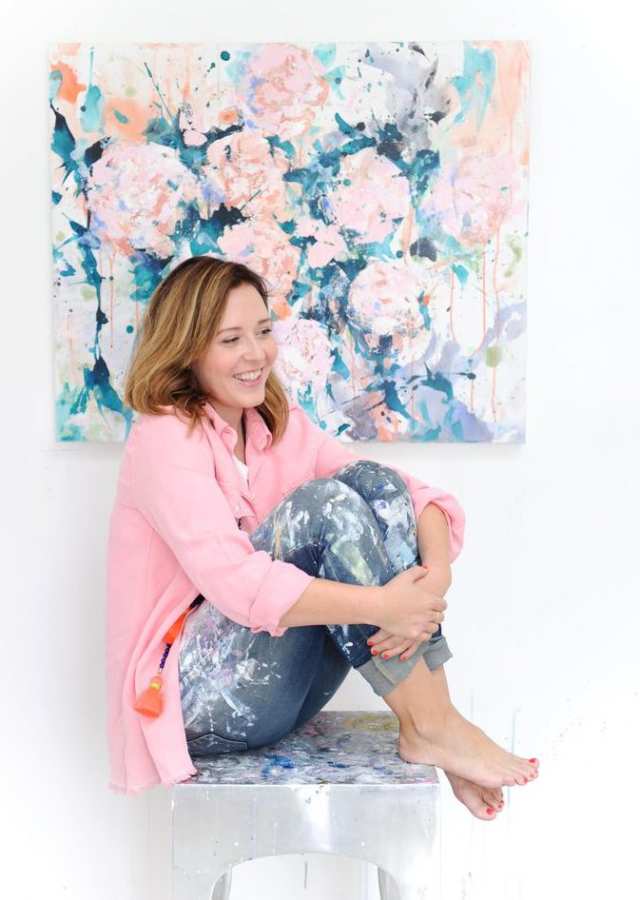 One of my favourite Abstract Floral Paintings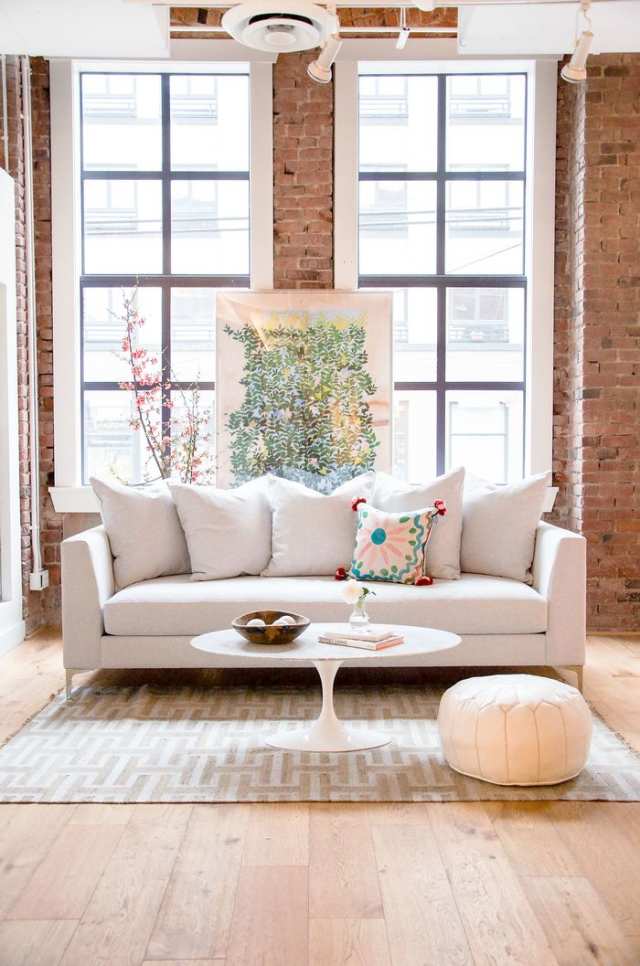 A pretty floral pillow can add a dose of femininity to a space _ Stephanie Vogler, The Cross Decor and Design